Let's face it. I think Grahm is pretty
adorable
.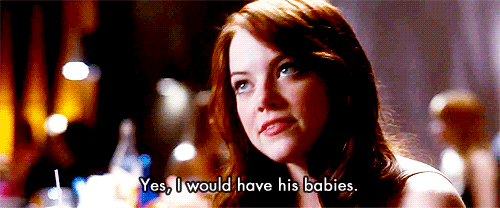 But when he first told me he would be in California for the week, I was a little excited. Two words: shopping stinkin' frenzy (okay, that's three). He was gone for a whoppin' ten hours before I grabbed my friend Tiffany and headed to the mall. I needed (yes, needed) clothes for our upcoming cruise. (Side note: I bought a C-cup bikini for the first time in this 32 A-er's life. Pregnancy win?)

Besides the ill-advised shopping trip, there really isn't anything I like about Grahm being out of town. I mean there are certain things girls (as fabulous as we are) just NEED boys to do...
Nothing makes me more jump out of my panties faster than bugs (oh and bubble baths). I hate them. I hate them all. They're sneaky and crunchy, and I'm convinced are going to kill me at any given moment. Normally, I yell and point and tell Grahm "Eww! Kill it, kill it!" But when he's away, I'm left to my own timid devices.
I walk toward it pretending like I have ovaries of steel. I've made up my mind to kill...
...until I find out it can fly.
Then, of course, I run away and barricade myself in my room.
2. Check Out the Noises
When I'm alone in a big house, every noise makes me want to pee my pants (a very easy thing for this pregnant gal).
Normally, I poke Grahm with my big toe and tell him to go check it out. (Obviously, if it's a murderer he stands a better chance of survival.)
When he's gone, I just pray the intruder can't see me inconspicuously hidden under my bulletproof blankets. (Darn you, baby bump, you're totally gonna blow my cover.)
3. Use all the Tools
Without Grahm, I'm about as handy as a foot. I have an upholstering project I could be working on in his absence, but I can't figure out how to work our screwdriver. (That sounds a lot more pathetic than it is... I think. It's one of those fancy twisty ones.)
At first I was gonna concur that idiotic tool...
But then...

And after ten minutes of listening to Grahm explain his rocket science screwdriver...
When I first think about having the bed to myself, I'm thrilled. Blankets to myself. Room to stretch my legs. No one to dutch oven me.
But then I remember...
So there you have it. We gals need our men. So hurry home, Grahmsterdoodle. I'm apparently incompetent without you.