Jena, the keeper of the wonder blog,
Recently Roached
, emailed me recently with a genius idea. The idea for a freaky Friday blog swap. Naturally, being the freak of nature that I am, I loved the idea. And so I am here today to share a few random tidbits about me-self with Jena's dear readers. And in return, Jena will be writing over on my blog,
Crazy Ever After
, dishin' the deets about herself. Trust me when I say that you don't want to miss that. So go check her out when you're done here.
Let Freaky Friday Facts begin...

Freaky Friday Fact #1:
I believe separate covers are the key to a happy marriage. The only way Jesse and I can co-exist in the same bed is if we sleep under separate covers. The first few times we attempted sleeping under the same covers was holy hell. Sure, it's fun to cuddle with your love and fall asleep in each other's arms. Scratch that. Actually it's torture. And it just doesn't work for us. Someone ends up getting a 'bow to the head or a knee to the groin. Add two puppies into the mix and it's a definite no-go. We were so happy when we came to this realization. A bedroom breakthrough of sorts. So separate covers it is. And thus far we've lived happily (albeit crazy) ever after.
Freaky Friday Fact #2:
I have a thing. OK. I have a lot of things. But I am just going to share one of my things. I like my toilet paper to roll a certain way. And if I am at your house and your toilet paper is not rollin' the way I like it then I will take it upon myself to change it. I mean, I am sitting there doin' my thang, so it's no big inconvenience or anything. I am more than obliged to help you re-situate your Cottonelle. Is this anyone else's thing? Or am I all alone in this thing? Here. A visual for those of you who are completely confused by this thing of mine.
Freaky Friday Fact #3:
I don't give a good gosh darn about the Pooper Bowl this weekend. I am sorry if you're a Giants or Pats fan, but really, I am not sorry. Also. I think Tom Brady is a douche canoe. But that is beside the point. Guess what I am excited about this weekend, though? The PUPPY BOWL. It may very well be the best thing ever created. And I cannot wait to let Bobo watch all the magic this year. His bed time is a little later this year so he gets to stay up and watch it. He's going to go ape for it. PS-it's on the Animal Channel this Sunday. Be there. We can totally live tweet throughout it if you want.
Freaky Friday Fact #4:
If I see a black garbage bag on the side of the highway I automatically assume it's contents are dismembered body parts. I think there is a diagnosis for people like me. I am clearly not alright. But it makes me feel better when other people say that they think these thoughts too. Wait. How did we go from puppies playing football to dismembered body parts? I don't know. But I am about to talk about my missing bra next. Brace yourself.
Freaky Friday Fact #5:
I currently only own one decent underwire bra (in addition to a drawer full of sports bras). I used to own two, but I lost it. Completely unacceptable. How does a married woman lose a bra? I might have an idea. I sometimes get annoyed with wearing my over-the-shoulder-boulder-holder, and will take it off and put it in my purse. My ability to take off my bra without taking off my shirt is as close to being a magician as I get. Anywho. I think this is what happened. But when I went to grab it out of my purse it was no where in sight. Which then begs the question, "Who the crap steals a bra??!!?"
Alright. That's all she wrote, folks. Stop on over and see us at Crazy Ever After.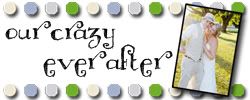 Thanks for having me, Jena. I love your blog, and I love you.